ISL 2021-22 LIVE: Top five players to watch out for in FC Goa vs Jamshedpur FC clash: FC Goa will be looking to get back on the winning track when they face Jamshedpur FC in their next Indian Super League match. FC Goa lost 3-0 to Mumbai City FC in their previous match and will be looking to improve their performance in future matches. Therefore, coach Juan Ferrando will have an important role to play in helping players stay motivated after a big loss right at the start of the season.
We are in full swing before tomorrow's match! 🤩#ForcaGoa #FCGJFC #AmcheGaurs #HeroISL pic.twitter.com/zl2ppz0YkB

– FC Goa (@FCGoaOfficial) November 25, 2021
On the other hand, Jamshedpur FC have started their season with a 1-1 draw against SC East Bengal. Therefore, Owen Coyle's men are also hoping to record their first win this season as they aim to finish in the top four for the first time in their club's history.
The match between the two teams will see many important players face each other. But there are only a few that are worth keeping an eye on.
Peter Hartley (Jamshedpur FC)
The Jamshedpur FC captain was a mainstay in the Men of Steel's defense against SC East Bengal. Hartley even stepped forward in a time of need and scored a very crucial goal in their 1-1 draw against the Reds and Golds in their first game of the season. The English defender is easily one of the most underrated players in the league and will look to continue his rich streak of form against FC Goa.
The Gaurs will be looking to attack from the start and Hartley's presence in the middle will be very crucial for Jamshedpur FC. The young Sunderland graduate has practiced for various English and Scottish teams from Bristol Rovers, Blackpool, Plymouth Argyle, Motherwell, etc. It will be a great season for Hartley and if Jamshedpur FC wants to make the playoffs, a lot will depend on him.
Brandon Fernandes (FC Goa)
One of the most consistent Indian players in recent ISL seasons has to be Brandon Fernandes. The India international has also replicated that form for the Blue Tigers. He has been an axis in the midfield of Juan Ferrando and will seek to face Jamshedpur FC.
Brandon didn't have a great season for the Gaurs last season as he was only able to get three assists and was mostly sidelined due to fitness issues. His true potential was seen in the 2019-20 season when he scored twice and provided seven assists and was a pioneer in the FC Goa midfield. He will be a very important player for the Gaurs this season.
Edu Bedia (FC Goa)
The FC Goa captain will be the main man in the middle of the gaurs this season. Bedia controls the tempo of Goa and is a very central figure in the middle of the Juan Ferrando system. Spaniard has been a great source of inspiration for young Indian players and has helped them develop as better players. Bedia didn't have the best of starts this season against Mumbai City FC.
ISL 2021-22 LIVE: Top five players to watch out for in FC Goa vs Jamshedpur FC clash
Therefore, they will be looking to put that performance behind them and look forward to the match against Jamshedpur FC. The former Real Zaragoza midfielder has long been a driving force for Goa and hopes this season he can guide them to the elusive ISL title.
ISL 2021-22, Kolkata Derby: East Bengal's Franjo Prce sends warning to rivals ATK Mohun Bagan, says 'He will fight for every ball'
Nerijus Valskis (Jamshedpur FC)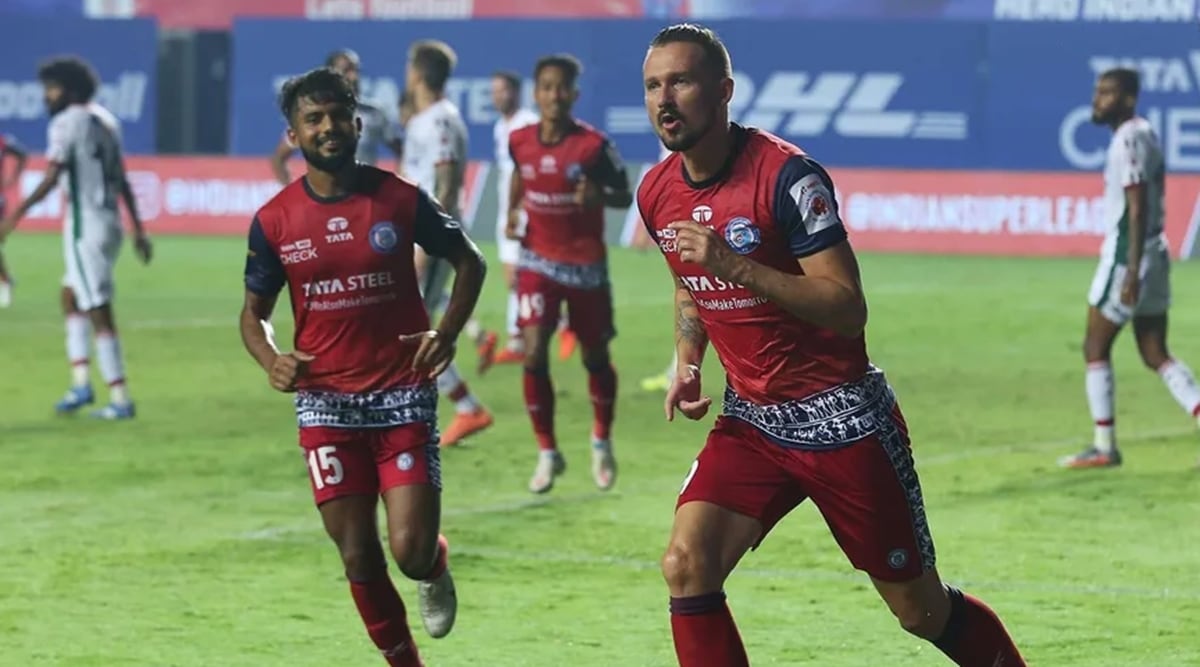 The Lithuanian is considered one of the most prolific forwards in the ISL this season. It was in 2019-20 when he enjoyed his best moment in the ISL practicing his trade for Chennaiyin. Valskis scored 13 goals and guided Marina Machans to the final where they ultimately lost.
He then followed Owen Coyle to Jamshedpur FC and, despite being burdened with goal scoring responsibility, he scored eight goals last season and was one of the most threatening players in the league. He is back again with shooting boots as he intends to replicate the 2019-20 season with the Men of Steel. He failed to score in the first game against the Reds and Golds despite having multiple chances. He will try to make up for it by scoring against FC Goa.
Jorge Ortiz (FC Goa)
The versatile Spanish striker was one of FC Goa's brightest sparks last season. He congratulated Igor Angulo very well from the start and even led the lines with a lot of responsibility in the AFC Asian Champions League. Ortiz is known for his ability to take on defenders, create opportunities, and is also a very capable spiker.
The 29-year-old forward scored six goals last season and provided three assists in total. He also demonstrated his scoring prowess in his historic ACL when he scored a goal to beat Al Rayyan in a 1-1 draw against the Qatar side. He was not a starter in the last game, but Ferrando will look to make some lineup changes and start with Ortiz, as the former Atlético de Madrid player 'B' has the qualities to threaten Jamshedpur FC's defenders.
ISL 2021-22 LIVE: Top five players to watch out for in FC Goa vs Jamshedpur FC clash