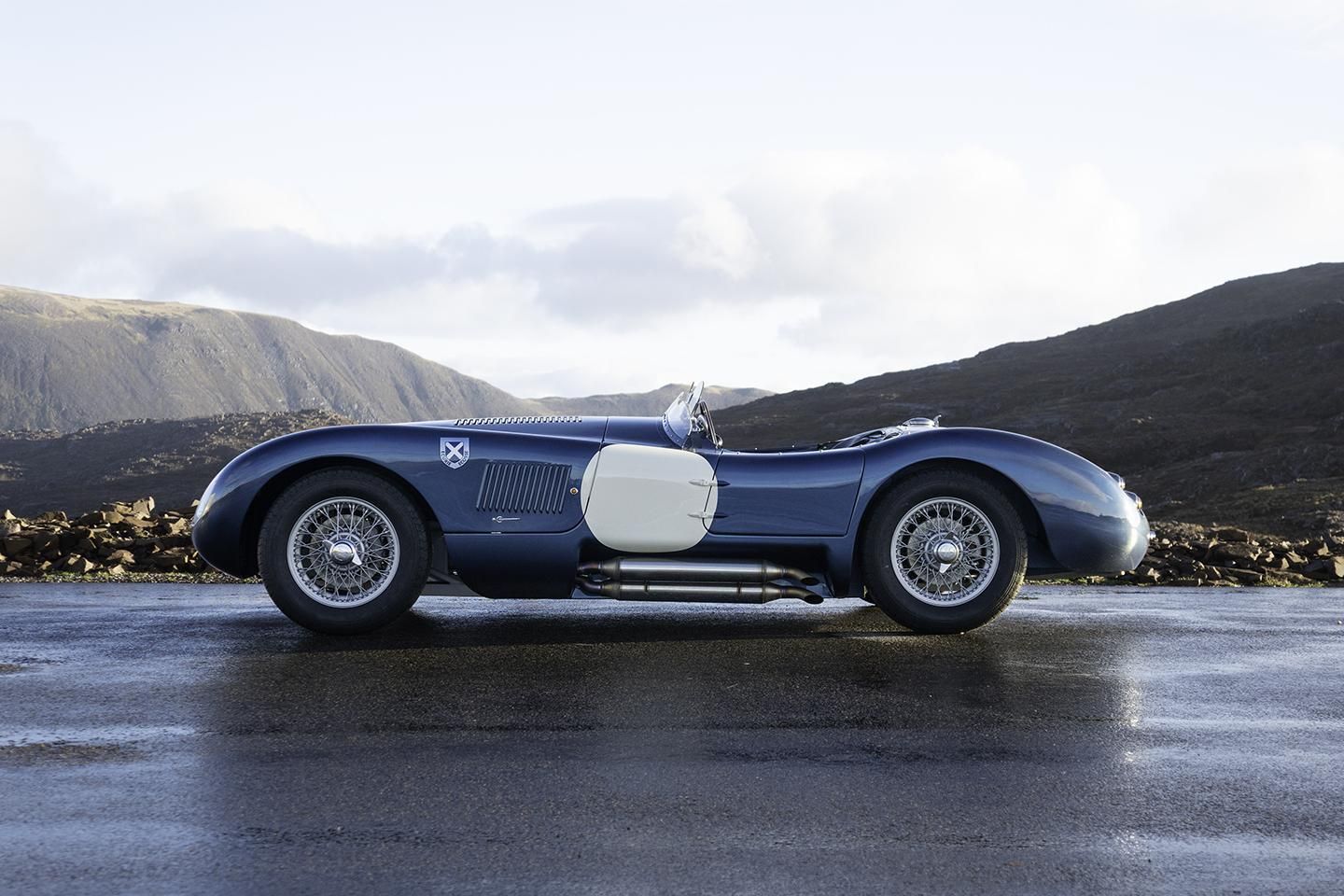 It can be rude to stare, but it's also impossible not to. The Ecurie Ecosse LM-C is an irresistible magnet for the eyes as it sits still and quiet in the corner of the Hofman showroom in Henley, looking like an exceptionally well-preserved museum piece. But it becomes truly magical in the real world: pedestrians stop and look, point, and even swivel to follow the movement. Sitting in the driver's seat at a red light, wearing a very silly flight helmet and goggle combination, I hear a shouted salute over the din of the exhaust note. It's coming from the Velar in the next lane, whose driver gazes about 15 feet into the air from my humble perch. He clearly knows his sports cars: "is it a C-Type?"
No, it is not. But explaining the intricacies of why wouldn't take too long given the lights are changing and I have to do some light clutch work to avoid the public disgrace of a stall. My response is limited to a wave of my hand and a thumbs up as I shift my focus to get off to a smooth start.
The Ecurie Ecosse LM-C feels both old and new, especially on public roads in wintry conditions, but it's not one of the rising trend continuation models. Firstly, because it lacks official sanction from Jaguar, which has announced that it will be making its own series of 16 official pixel-perfect replicas of the 1953 Le Mans winner. But it's also because, while the inspiration obviously comes from the C-Types that the original Ecurie Ecosse team raced against, some substantial changes have been made to try and make the LM-C better suited to the 21st century.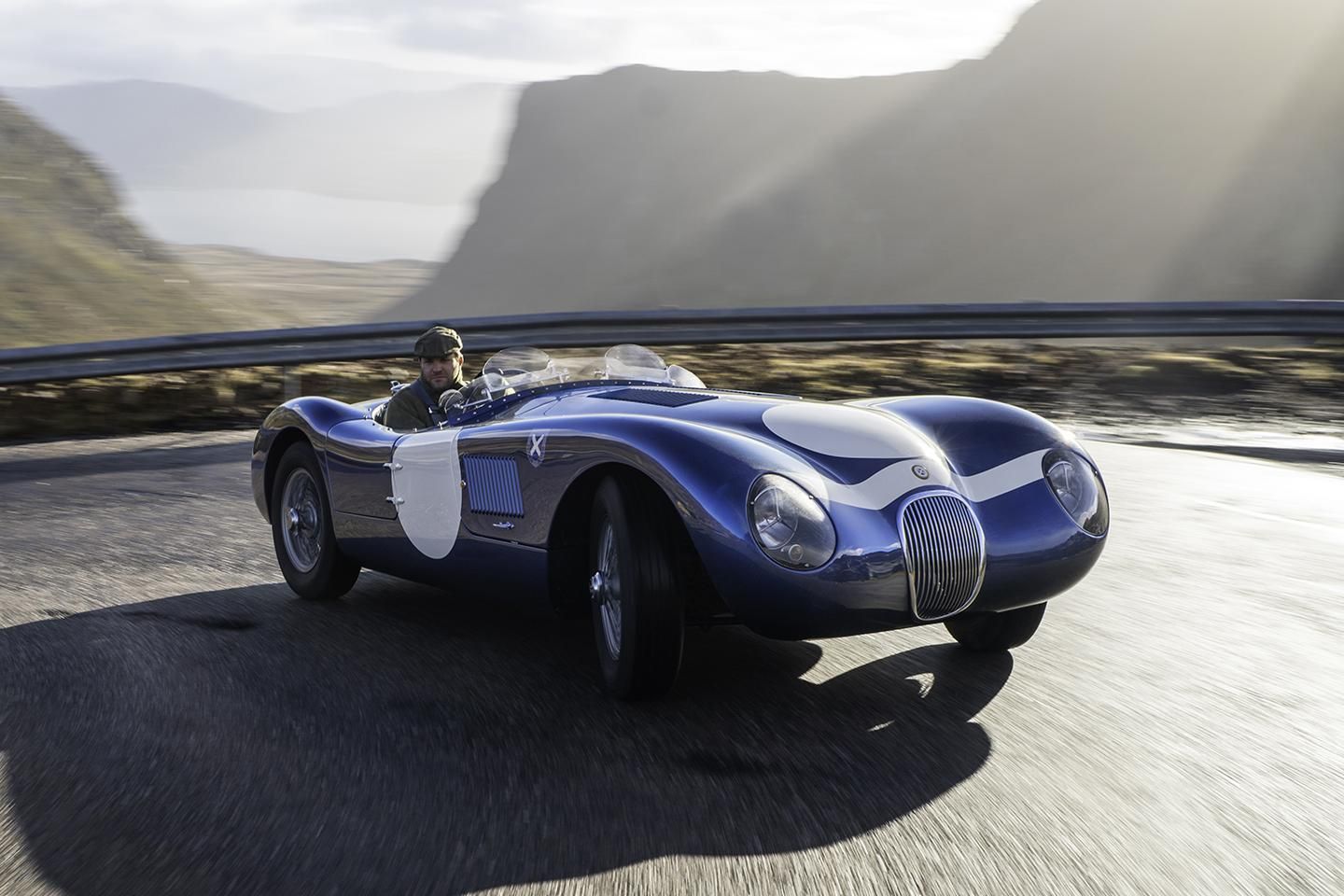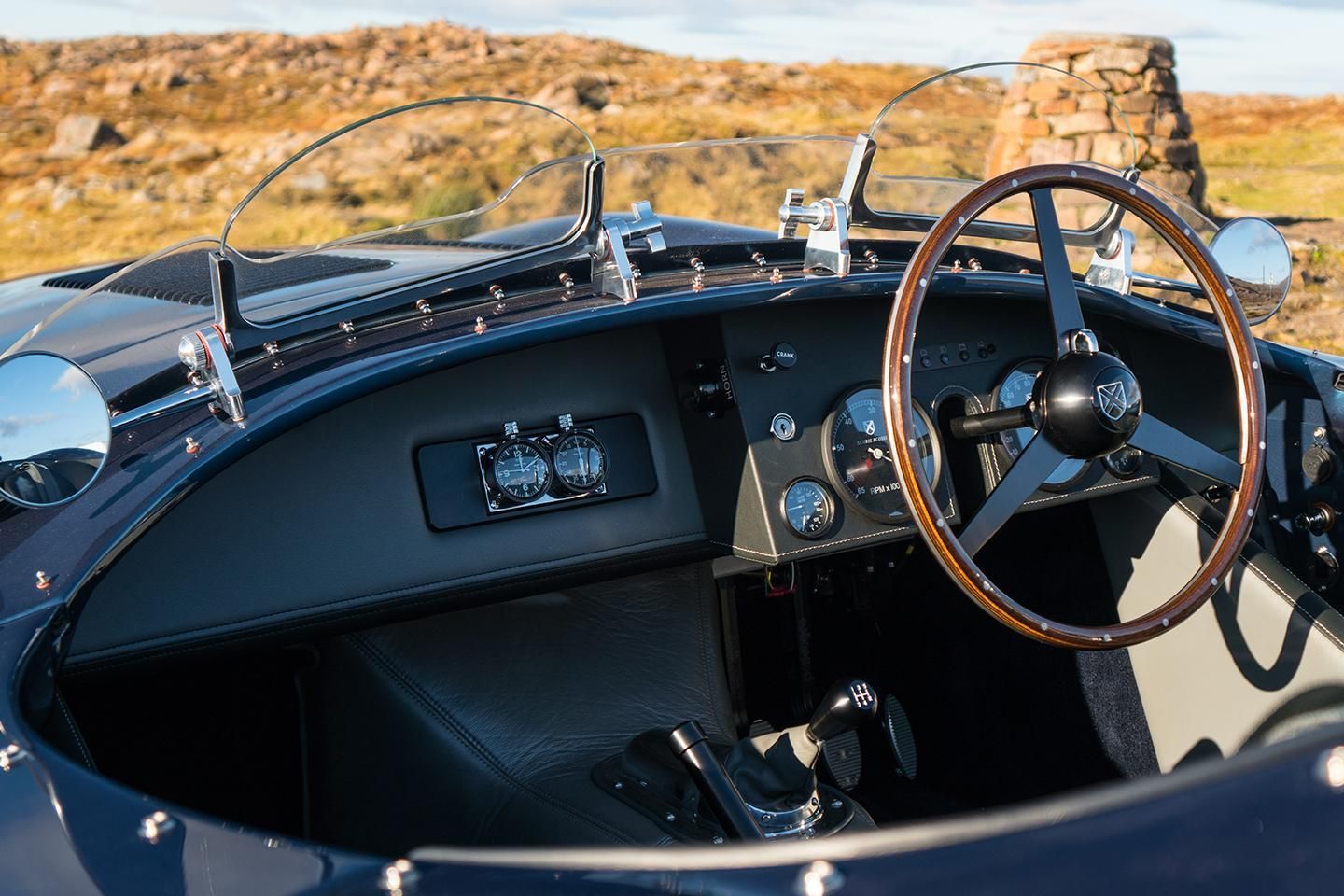 Don't worry: this isn't one of those restomods with power steering, air conditioning, or a 500W sound system. The basics are still basic, with the LM-C having a completely analog driving experience, and so little gear to the weather as the original. car. There's a cut-out plexiglass screen and a pair of smaller, half-barrel wind deflectors to keep the unoccupied passenger seat dry. Beneath the bulkhead, the cabin features considerably more luxurious leather dash than any original C-Type, plus a pair of rally-style clocks and some modern switches on an offset panel. You will search in vain for any Jaguar brand simply because it does not exist. What there is, although I didn't realize this at the time of driving, is noticeably more room to move than there would be in a genuine C-Type.
That is due to a very good re-engineering. The LM-C's body is made of hand-formed, thin-gauge aluminum, and underneath is a chassis made primarily of steel tubing, just like the original car. However, while the proportions remain accurate, the dimensions have changed significantly, with Ecurie Ecosse's Chris Randall confirming that the new car is four inches longer and two inches wider than the original C-Type. The decision was made both to help clean up the lines (previous replicas also reportedly tended to be larger), but also to increase space in what would otherwise be an uncomfortably cramped cabin.
A similar pragmatic approach has been taken elsewhere, with the LM-C's chassis and suspension following the same similar but different approach, with non-prototypical gusset plates and different suspension mounting points. While the powertrain features a rebuilt 4.2-liter XK six-cylinder engine, it's powered by a new multi-point fuel injection system instead of carbs. The car also has electronic ignition, a lambda sensor, and even a well-hidden catalytic converter to allow it to pass a low-volume emissions, and thus, VAT test. The transmission is also sent through a Tremec five-speed gearbox; an original C-Type would have a much less beefy Moss four-speed.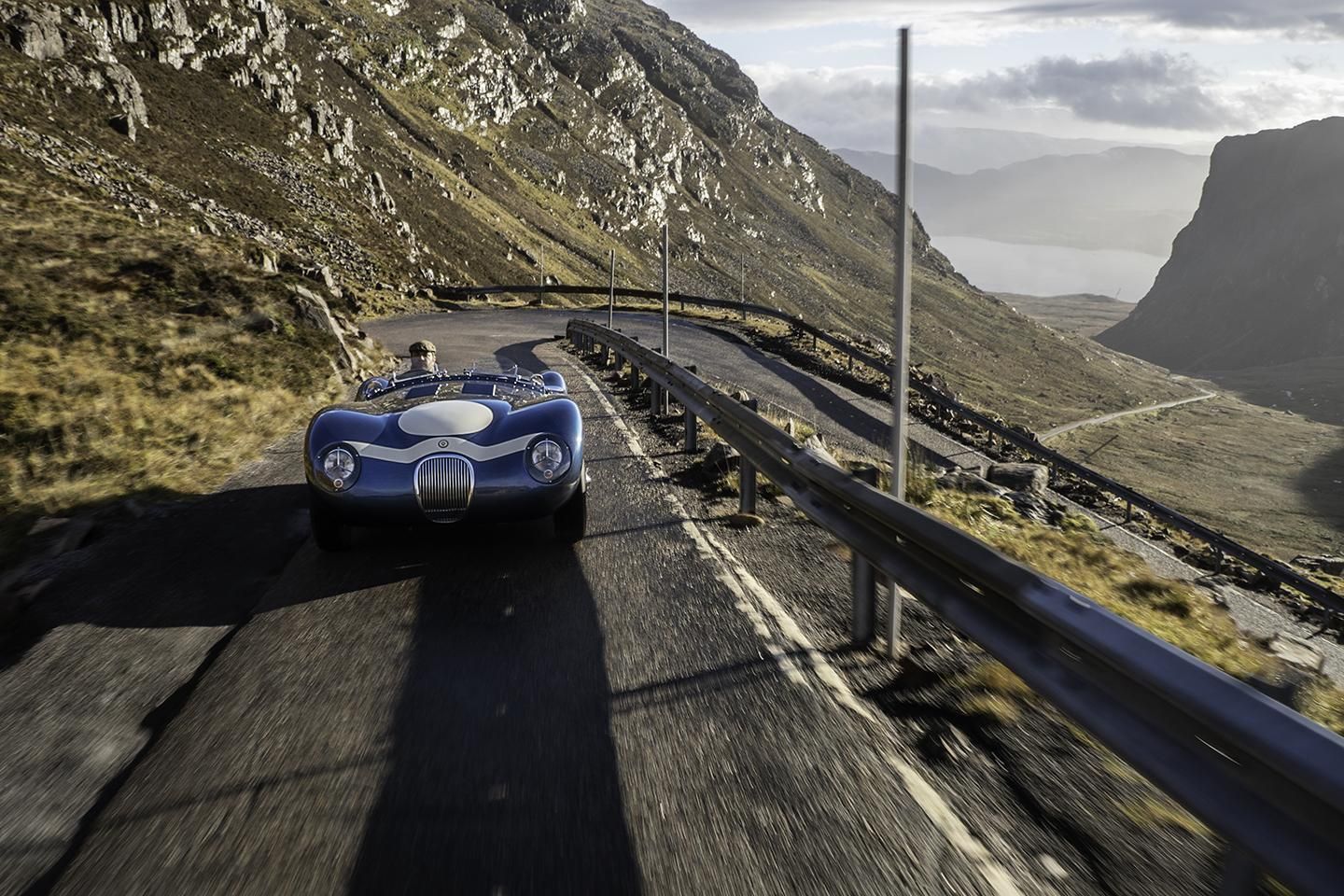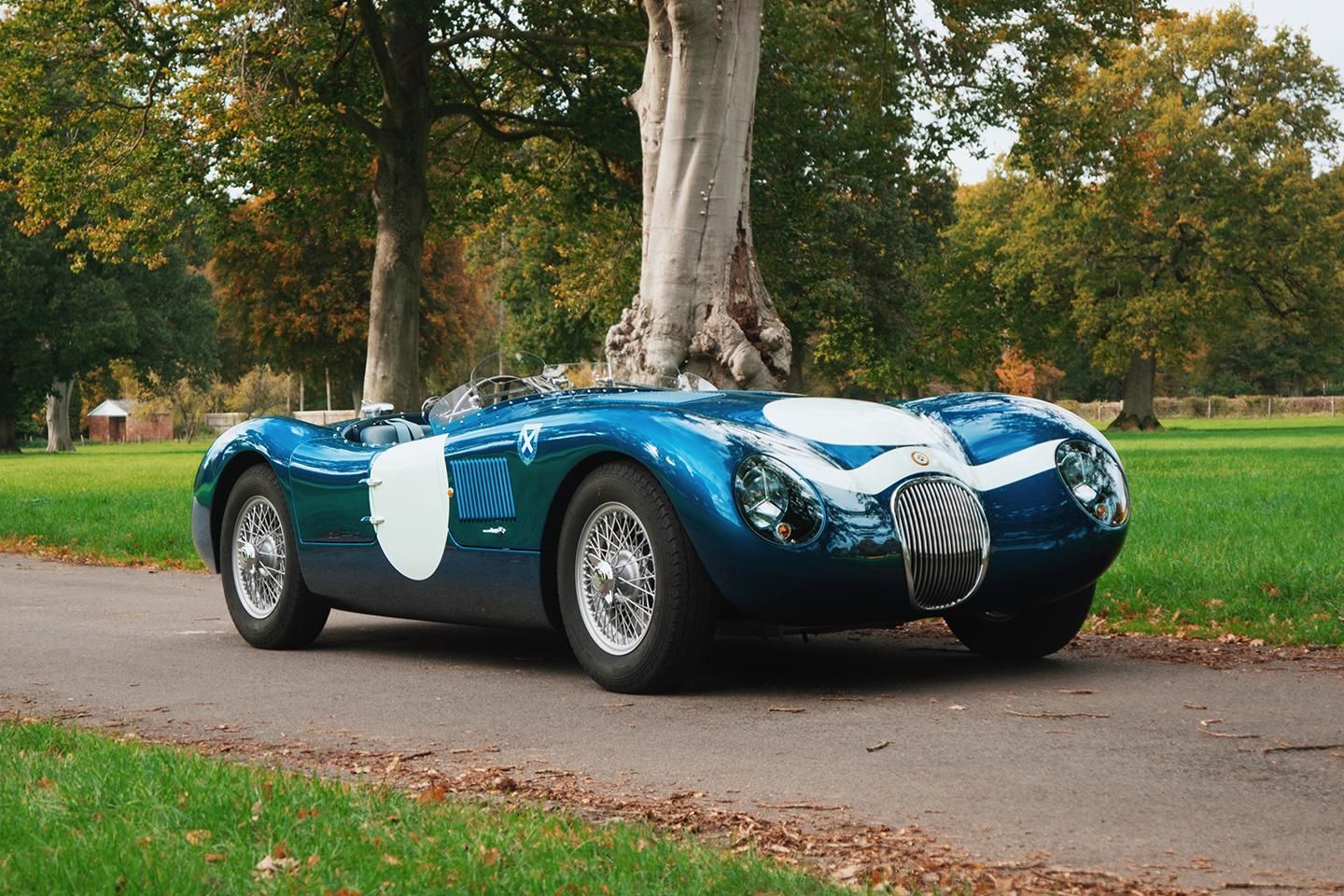 Despite the enlarged footwell and tractable engine, however, slow-speed progress remains, initially, a challenge: After leaving the showroom, it takes most of Henley's one-way system to get the crack to combine throttle and clutch with reasonable smoothness. At lower speeds, the engine soundtrack is still very 1950s, with a rough idle and what seem like individual countable exhaust pulses bouncing off every flat surface. The engine lacks much enthusiasm below 2,500 rpm, although it's manageable enough for smooth urban progress, while the ride is decidedly firm and the steering without slack. Long before passing the restriction removal sign on the A4130, the LM-C is showing a clear enthusiasm for going faster.
But I am? The 300hp, 1000kg Ecurie Ecosse's power-to-weight ratio is healthy by modern standards, but the presence of 185-profile Avon Turbospeed tires at every corner acts as a mental brake. In the past, I've had some scary moments on classic tires in slippery conditions, and knowing that there are no electronic safeguards between me and the cold, wet road surface triggers an instinct for discretion rather than courage.
But it doesn't take long for the LM-C to convince me to try harder. Lateral and longitudinal grip is admittedly limited, but the Ecurie Ecosse points out its limits as clearly as an elite traffic light instructor. The combination of crisp steering response and throttle pedal sensitivity makes it easy to bring both ends of the car to the brink of grip without noticeable speed. At a roundabout I experienced the full set of understeer, oversteer and what feels like a four-wheel drift appropriate for the 1950s.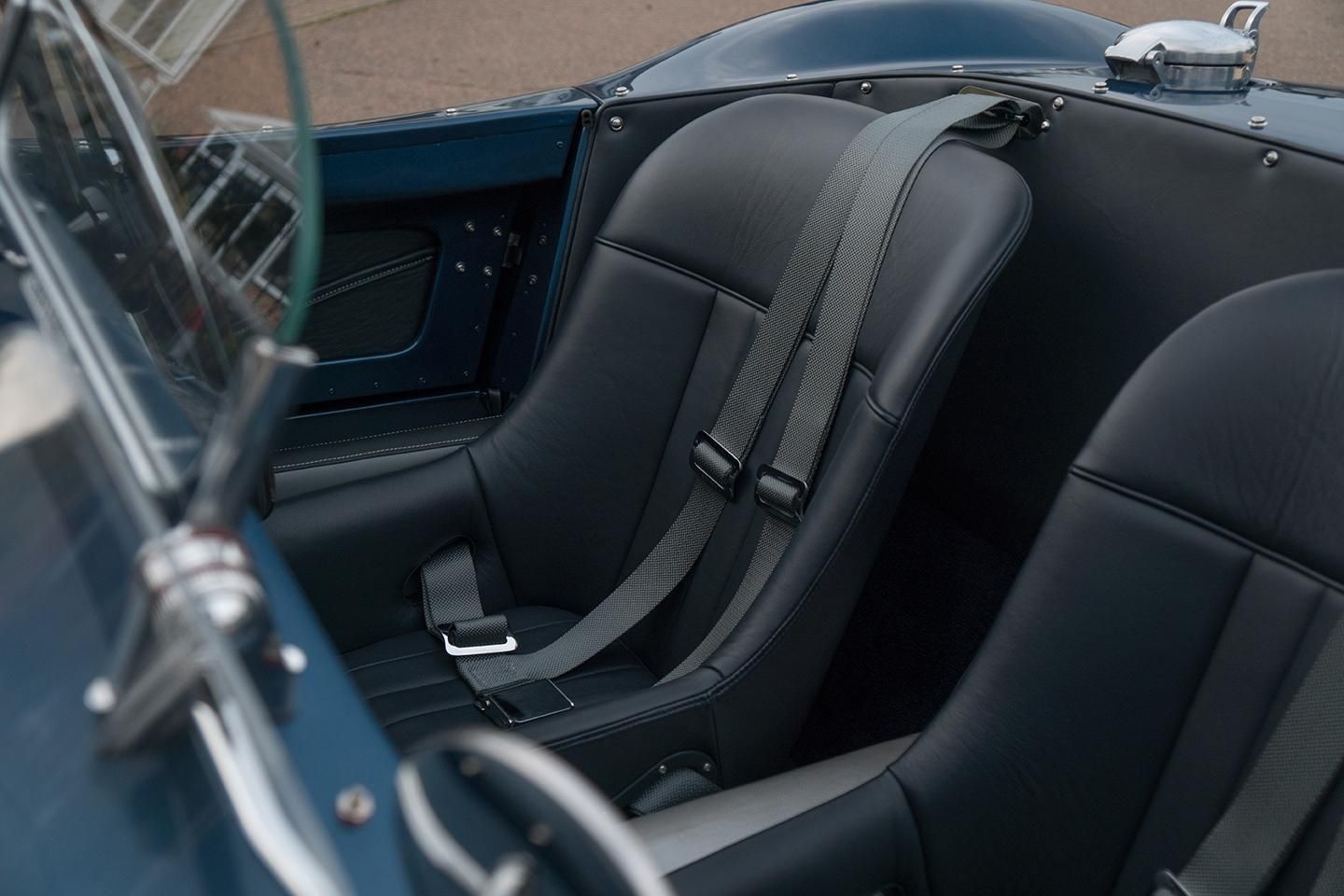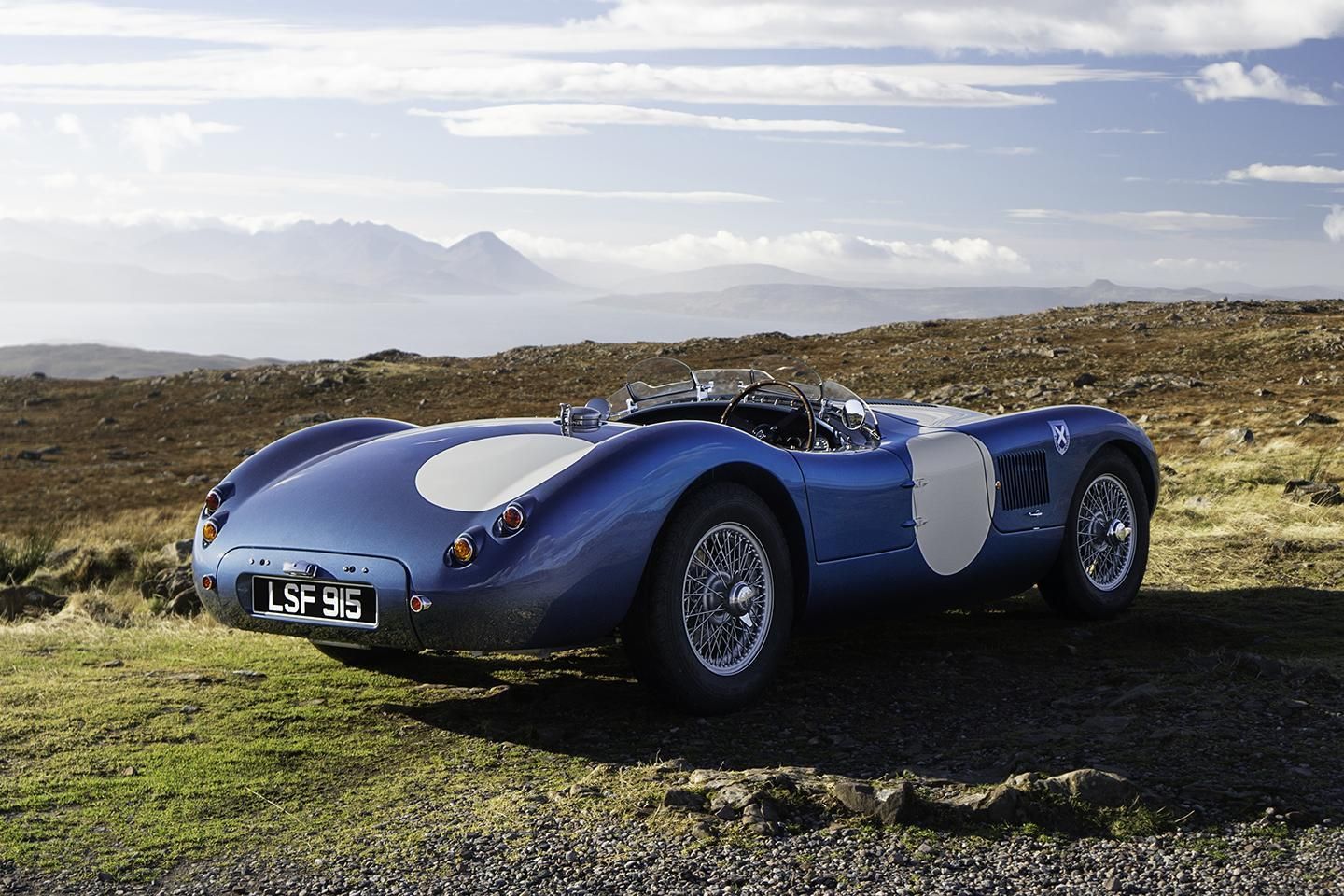 The shifter has a beautiful action, and the brake pedal is firmer and more effective than previous experience with vintage classics led me to expect. The engine sounds great and enjoys occasional trips to the upper reaches of its rev range, but rapid progress will always come down to more mid-range muscle than regular redline attempts, this marked at a relatively low level of 5800rpm Sitting low behind the surprisingly effective aero screen, the LM-C felt impressively comfortable cruising at 60 mph, the glass deflecting both rain and spray. It may not be the most obvious choice of car to drive through an English winter, but it can certainly handle challenging conditions far better than you'd probably expect.
The comparison between the LM-C and the official continuation of the Type C is inevitable, but also wrong; These are definitely two cars aimed at different markets: the Ecurie Ecosse designed for road use, the official car for the historic competition, and (let's be honest here) the kind of collectors who will probably consider it more of a work of art than a vehicle to drive. . machine. There's also the small matter of what is almost certainly a seven-figure price difference.
We know that JLR engaged in a legal battle with the maker of another C-Type replica, Karl Magnusson in Sweden, eventually winning a copyright case, but it also created the unedifying spectacle of a corporate Goliath seemingly crushing an enthusiast. David. Although Ecurie Ecosse will not confirm that there have been any talks with JLR, the very existence of the LM-C seems like good evidence that 'inspired by' replicas may still exist alongside officially sanctioned ones. Oh, and anyone going to the Bicester Scramble this Sunday can see the LM-C up close and be amazed.
Specification | Ecurie Ecosse LM-C
Motor: 4200cc, six cylinders in line
Transmission: 5 speed sequential rear wheel drive
Power (hp): 300 to 4500rpm
Torque (lbft): 266 at 4780rpm
0-60mph: 4.8 sec
maximum speed: 157 mph (limited gear)
Weight: 1000kg
MPG: "about 27 mpg"
CO2: N/A
Price: £430,000 ex-works (+VAT)