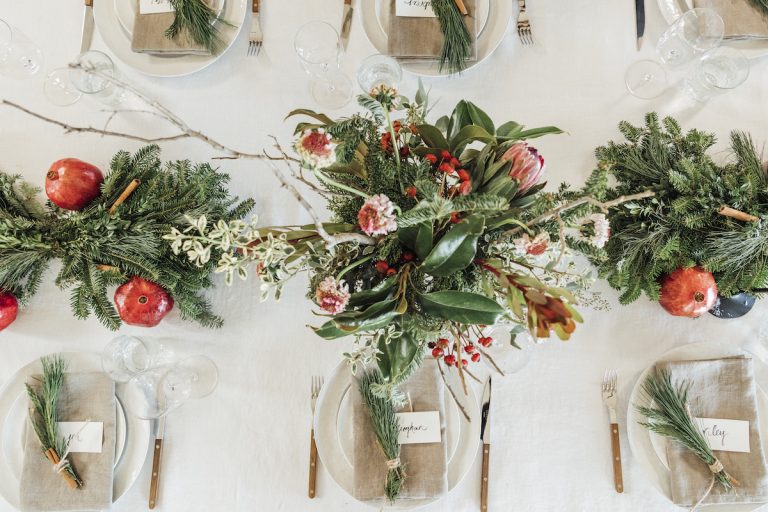 Ah, the wide world of Pinterest. If you ever find yourself looking to answer the question "What should I bake, decorate, DIY, or make today?" Ask, Pinterest never lets me down. When I am in the all-important business of preparing Christmas food, wrapping gifts, and making the house feel warm and welcoming, I always look for inspiration, and few things excite me more than setting the table for the grown-ups. Christmas day meal. So since it's officially the season, I'm deeply researching all the Christmas table setting ideas, courtesy of Pinterest.
I'm sure many of you agree that there is nothing better than combining delicious food with stunning surroundings (plus all the loved ones you can fit around your table). When all is said and done the real reason We strive to dress our homes for the holidays to make ourselves comfortable with friends and family. And while presence is key, I love documenting all fun to be had in the form of too many photos, and I always love to see an aesthetically pleasing backdrop to all that joy.
And so since I can easily get lost in a rabbit hole of an hour of happiness on Pinterest, I had no problem searching Pinterest for ideas to work with. Whether you prefer minimal, whimsical, or farmhouse chic, you'll find exactly what you're looking for here. I've put together my favorite aesthetics and options for all the inspo you could want and need.
If you want your guests to feel like they've just stepped into the most stylish Christmas-themed fairy tale possible, here's your answer. I love the balance of white wood accents on light wood mixed with a tangle of fresh and varied greenery for natural vibrancy. Everyone at your table is guaranteed to feel right at home (while at the same time wondering if they were magically transported to Denmark for dinner).
Last year, Camille's Christmas decorations consisted of combining a neutral color palette with a natural forest aesthetic. While artificial accents can sometimes be a must, this look achieved a woody vibe with all the real greenery, a scattering of pinecones, and birch-wrapped candles just in case. With a fire crackling silently in the background, you might think you are in the middle of the forest yourself.
I can certainly come on board with a perfect vacation home. The satisfying symmetry and coordinated colors are balm to my Type A soul, but as I learn to embrace the principles of wabi-sabiI mean finding magic in the inaccurate, impermanent and incomplete. When I spend the holidays with my family, I love unwrapping all the ornaments and decorations that we have made over the years. While I appreciate the beauty of an aesthetically pleasing décor, nothing comes close to the pleasure of connecting a physical object made from the heart to a cherished memory. If that is also true of you, I highly recommend that you leave Camille table inspire yours.
There's a reason we're all a bit more than obsessed with Scandinavian design, food, and philosophy (Hygge, somebody?). With comfort and comfort at the core of this way of being, it's no wonder the approach to decorating makes you feel immediately at ease. The addition of greenery, a monochromatic setting, and a few small tea lights scattered across the table is pure Low key the magic of Christmas dinner. Black, gray and green are the driving forces behind this color palette, helping you to immerse yourself in a dream country with Danish-inspired décor.
If it's the centerpiece you like, this is the tablescape for you. The components of this scene combine with a cozy and contemporary feel, creating an end result that is undeniably impressive but nonetheless attractive. You can click through to find DIY step-by-step instructions for assembling the hoop centerpieces, or purchase our option for a minimalist wreath below and simply attach a base for balance. Also, the combination of velvet and sheepskin pillows to sit on? Perfectly conducive to a nap after meals.
For your adults-only Christmas dinner, this table is a state of mind. You know and love Tieghan gerard for their delicious recipes, and if you check their blog and Instagram every day for inspo (guilty) you probably also know that the girl has the knack of designing many enviable interior vignettes. This chart is indicative of Tieghan's stress-free approach to entertainment. While it is certainly absolutely gorgeous, there isn't much you need to recreate the look for yourself. Some coupe glasses, classic silver and dark dinnerware, plus an edible seasonal fruit centerpiece. I'd be more than happy to pull up a chair.
Just looking at this image immediately transports me to the New England countryside, with idyllic images of a snow-white vacation, Christmas carols, and a Christmas Kringle for breakfast dancing in my head. If that phrase alone perfectly encapsulates your ideal Christmas, let this chart be your guide. While you may need to ask for a little help getting the ornaments and evergreens installation done, the table itself is all about simplified simplicity and easy to recreate.
If Norman Rockwell were commissioned with a picture of a 2021 Christmas, fingers crossed, it would be this house. The interplay of textures and aesthetics feels wonderfully classic and cohesive. By weaving green throughout the flowers and into the bedding, it can get a little wild with the other table items. However, there is a lot going on here so be sure not to go overboard with everything you bring to the table. I would call that creativity thriving within limitations.
While the black and white may seem a bit stark, this table does an impressive job of weaving a bit of whimsy into its composition. A few figurines (how cute these houses are!), Unexpectedly shaped wine glasses, and modern conical stands offer dynamic display and set the stage for the beautiful food to come.
If you're not waking up to the snow on Christmas morning this year, why not keep the dream alive inside? A wintery white table gets a bit of interest and a festive twist from the pineapples and a greenery corridor (with a little more woven in place just for the sake of it). How is the song going again? I'm dreaming of a white Christmas …
I love a ski weekend. Running after running (after running) down the mountain sounds like absolute happiness; I certainly love to warm up in the hostel even more. If this sounds like you too, then recreate the alpine atmosphere with this impressive table. White, green, and a bit of gold combine for a clean but captivating setting. Grounding the tall, sharp sails with a garland of icy greenery is enough to make me feel like I've just finished a day on the slopes.