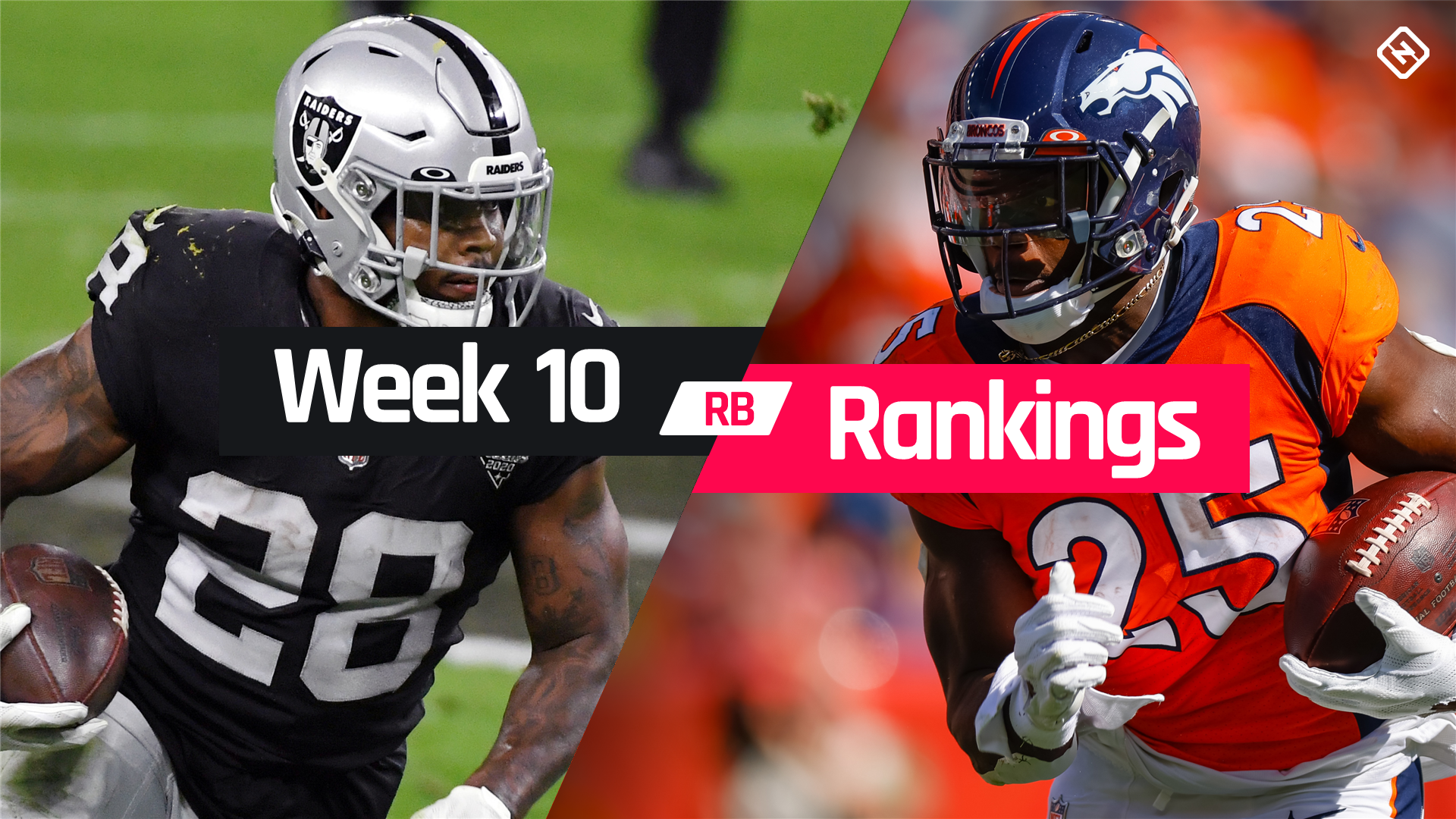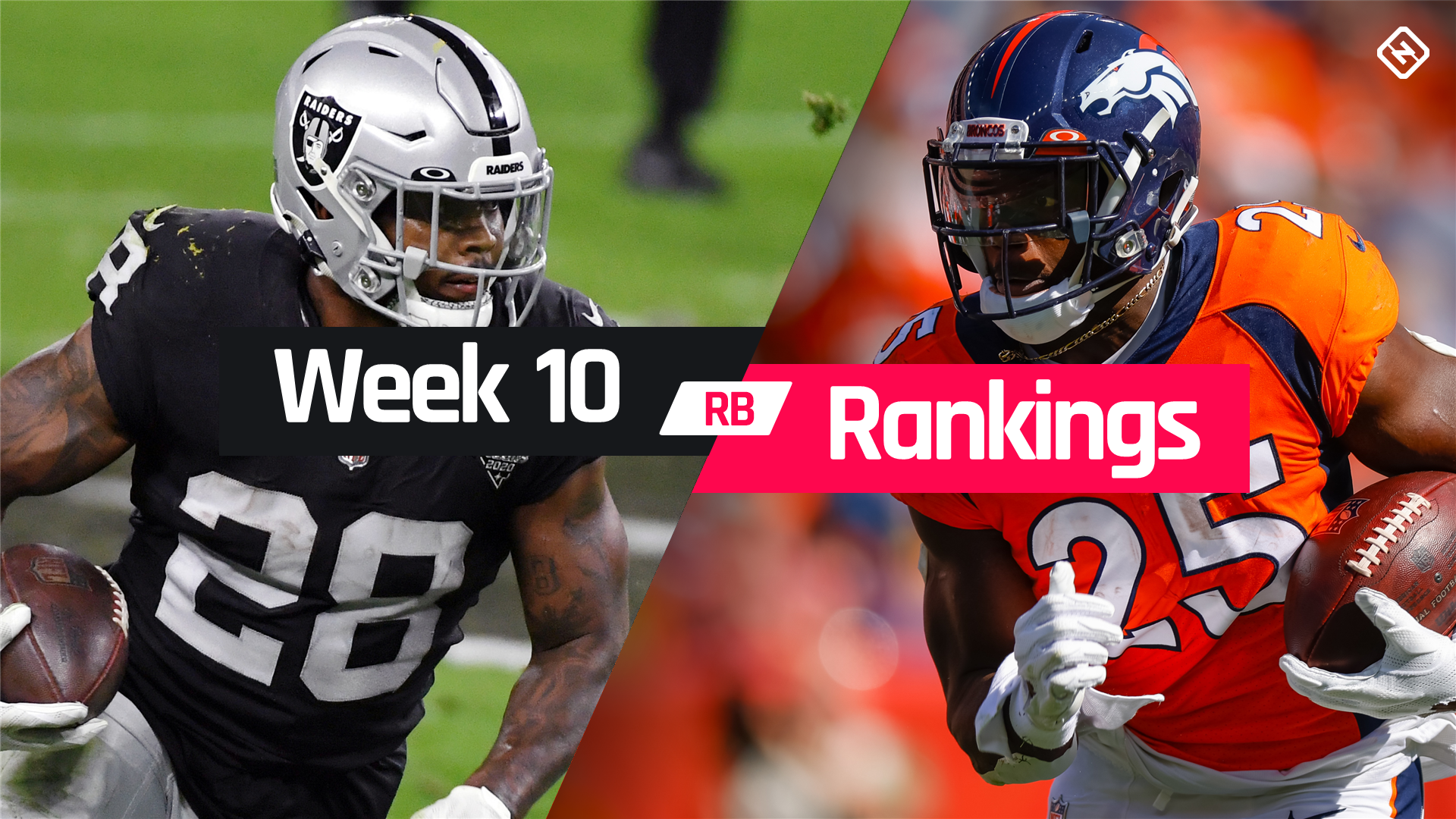 Things looked bleak at certain points last week, but then Christian McCaffrey and David Montgomery came back from the IR and we managed to get through the week with just a couple of notable new injuries. Sure, it's a bummer to be without Derrick Henry (foot), but our Week 10 fantasy RB rankings still look pretty solid.
The four teams in goodbye – Bears, Texans, Giants, Bengals – do not have the strongest group of running backs. Joe Mixon will be missed, but fantasy owners are used to being without Saquon Barkley (ankle) and Montgomery. Khalil Herbert and Devontae Booker have certainly had their moments, but you can't be too upset when players who got waivers less than a month ago take the week off. And he also can't be bothered when David Johnson and Phillip Lindsay are saying goodbye. If anything, be thankful that you don't have to force one into your flex.
WEEK 10 PPR RANKINGS:
Attack player | Running back | The wide receiver | Hard ending | D / ST | Kicker
Even though the byes aren't too harsh for idle RBs, they do eliminate some great matchups. The Texans, Giants and Bears were the top 10 in terms of fantasy points per game (FPPG) allowed to RBs heading into Week 9. That means fewer potential sleepers and / or high-level studs, which means a more likely to have to. take risks with your RB2 spot or use a WR on your flex.
WEEK 10 STANDARD RATINGS:
Attack player | The wide receiver | Hard ending | D / ST | Kicker
The consequences of that can be seen in all the top backs who have tough matches this week. James Robinson (@ Colts), D'Andre Swift (@ Steelers), Damien Harris (vs. Browns), Darrell Henderson (@ 49ers) and Michael Carter (vs. Bills) are all difficult to bench because of their talents and roles. . but the sled will be difficult for everyone. Carter is likely still in the early bubble, feel it, but his recent surge in volume and production, particularly in the passing game, should keep him in the rosters as at least a flex.
Antonio Gibson (vs. Bucs) not only has a brutal showdown, but questions remain about his health and use. Maybe after a goodbye, your shin will be better and you can handle a full series of taps, but considering Jaret Patterson beat him in Week 8 and JD McKissic has been more valuable overall the last two games, Gibson is, in the best, a push-up this week. The Titans 'team, Adrian Peterson and Jeremy McNichols (against the Saints), and the Cardinals' team, James Conner and Chase Edmonds (against the Panthers) are also in difficult situations. Peterson and Conner have more standard value thanks to their respective upside TD.
Highly favorable matchups await the Bills duo of Zack Moss and Devin Singletary (@ Jets), the Broncos duo Javonte Williams and Melvin Gordon (against the Eagles), and a packed Ravens backfield led by Latavius. Murray and Devonta Freeman (@Dolphins) when everyone is healthy. Boston Scott and Jordan Howard (@ Broncos), Kenyan Drake (vs. Chiefs), Nyheim Hines (vs. Jaguars), and AJ Dillon (vs. Seahawks) are also in good places if you want to go a little deeper, but Drake and Hines are a better fit. to the PPR leagues.
There are still several hit backs that we will see this week. Clyde Edwards-Helaire (knee), Chris Carson (neck) and Kareem Hunt (calf) are eligible to exit the IR, but it is unclear if any have a real chance of being activated. Continue trading as if you didn't have any available, and if they come back, you can adjust from there.
Overall, there are still plenty of good options despite some of the typical hurdles this week. Most importantly, at least a couple of injured stars are making a comeback. In a way, that makes navigating the position difficult, but having multiple viable options is better than having a mediocre option.
Qualification: We'll update these RB rankings throughout the week, so check back for the analysis and the latest player movement.
Fantasy RB Rankings Week 10: who to start with as a runner
Ratings are based on standard, not PPR punctuation
| | |
| --- | --- |
| Rank | Player |
| 1 | Dalvin Cook, MIN @ LAC |
| 2 | Najee Harris, PIT vs. DET |
| 3 | Aaron Jones, GB v. SEA |
| Room | Jonathan Taylor, IND vs. JAX |
| 5 | Christian McCaffrey, CAR @ ARI |
| Sixth | Alvin Kamara, NO @ TEN |
| Seventh | Ezekiel Elliott, DAL vs. ATL |
| Eighth | Leonard Fournette, TB @ WHAT |
| 9 | Austin Disgust, LAC vs. MIN |
| 10 | Josh Jacobs, LV vs. KC |
| eleven | Nick Chubb, CLE @ NE |
| 12 | Cordarrelle Patterson, ATL @ DAL |
| 13 | D'Andre Swift, DET @ PIT |
| 14 | James Robinson, JAX @ IND |
| fifteen | Damien Harris, NE vs. CLE |
| sixteen | Darrell Henderson, L to R @ SF |
| 17 | Melvin Gordon, DEN v. PHI |
| 18 | Elijah Mitchell, SF vs. LAR |
| 19 | Darrel Williams, KC @ LV |
| Twentieth | Myles Gaskin, MIA vs. BAL |
| twenty-one | James Conner, ARI vs. CAR |
| 22 | Michael Carter, NYJ vs. BUF |
| 23 | AJ Dillon, GB v. SEA |
| 24 | Jordan Howard, PHI @ DEN |
| 25 | Alex Collins, SEA @ GB |
| 26 | Zack Moss, BUF @ NYJ |
| 27 | Devin Singletary, BUF @ NYJ |
| 28 | Latavius ​​Murray, BAL @ MIA |
| 29 | Javonte Williams, DEN v. PHI |
| 30 | Antonio Gibson, WHAT vs. TB |
| 31 | Chase Edmonds, ARI vs. CAR |
| 32 | Mike Davis, ATL @ DAL |
| 33 | Drake of Kenya, LV vs. KC |
| 3. 4 | Adrian Peterson, TEN vs. NO |
| 35 | Boston Scott, PHI @ DEN |
| 36 | Devonta Freeman, BAL @ MIA |
| 37 | Tony Pollard, DAL vs. ATL |
| 38 | Ronald Jones II, TB @ WHAT |
| 39 | Jamaal Williams, DET @ PIT |
| 40 | JD McKissic, WHAT vs. TB |
| 41 | Mark Ingram, NO @ TEN |
| 42 | Jeremy McNichols, TEN vs. NO |
| 43 | Nyheim Hines, IND v. JAX |
| 44 | Salvon Ahmed, MIA vs. BAL |
| Four. Five | Derrick Gore, KC @ LV |
| 46 | Ty Johnson, New York vs. BUF |
| 47 | Rhamondre Stevenson, NE vs. CLE |
| 48 | D'Ernest Johnson, CLE @ NE |
| 49 | Brandon Bolden, NE vs. CLE |
| fifty | Le'Veon Bell, BAL @ MIA |
| 51 | Rashaad Penny, SEA @ GB |
| 52 | Alexander Mattison, MIN @ LAC |
| 53 | JaMycal Hasty, SF vs. LAR |
| 54 | Chuba Hubbard, CAR @ ARI |
| 55 | Carlos Hyde, JAX @ IND |
| 56 | Giovani Bernard, TB @ WHAT |
| 57 | Sony Michel, LAR @ SF |
| 58 | Jaret Patterson, WHAT vs. TB |
| 59 | Jerick McKinnon, KC @ LV |
| 60 | Larry Rountree III, LAC vs. MIN |
| 61 | Kenneth Gainwell, PHI @ DEN |